Shaftless elevators are small residential elevators designed to fit easily into your home with minimal disruption during installation. They are a great alternative to a stair lift or full-size traditional elevator. This type of elevator is most commonly used for convenience and mobility. They are also available in larger versions to accommodate wheelchairs and walkers making a home fully accessible to create independent living. This is why they have become extremely popular with seniors and the ever-growing aging-in-place movement.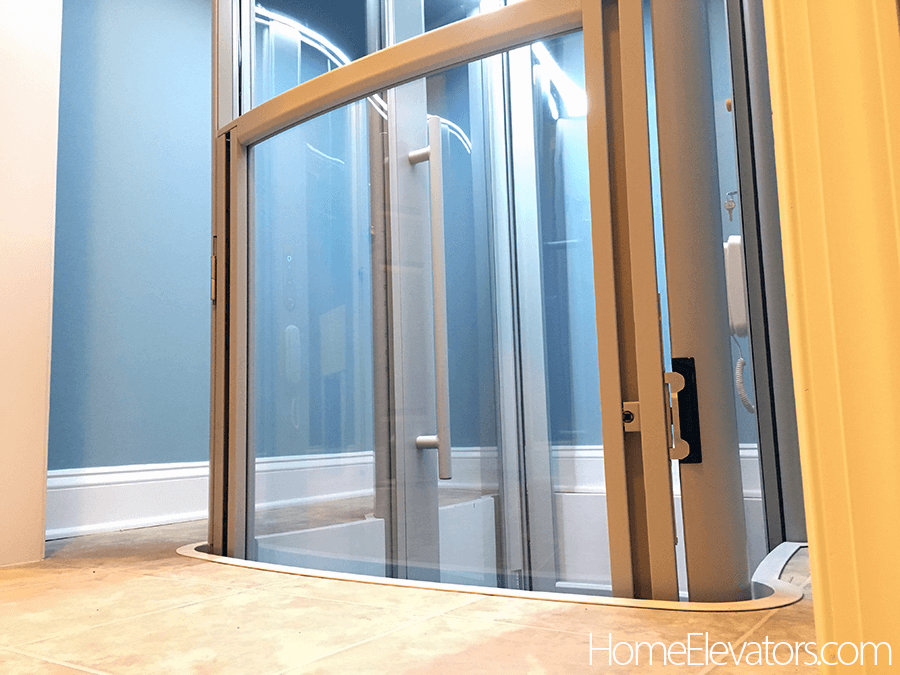 What Exactly is Shaftless?
The shaft-less design is possible by adding sensors to the exterior of the elevator and changing the operation to "push and hold" style buttons on the control panel. This design is permitted to travel between one-floor opening only. If you need an elevator to serve more than 2-floors there are several other options including hydraulic elevators or MRL traction models. Learn about these in our guide to home elevators.
This type of elevator has a very small footprint and can fit in the tightest of spaces. Since the overall design is compact it is one of the easiest elevators to retrofit into an existing home. The ingenious design allows for the installation of the lift in almost any area you can imagine. They also do not require a pit or separate machine room helping to save even more space.
While they do not require a shaft-way a partial enclosure can also be used. This is useful in situations where an elevator might fit into a floor plan better with existing walls. For example, we've seen some elevators installed in closets and pantries converted into a partial hoistway. Shaft-less elevators are installed in the open or semi-enclosed as shown here.
Manufactured by six main companies with various designs and requirements for installation, there are options to fit any need. Most standard models will attach directly to a wall supporting the lift while some units are virtually freestanding.
Our Pick Of The Top Models and Manufacturers Include:
View specifications for the different models and compare elevators here.
This model elevator by Stiltz Lifts can fit in a corner or be installed completely in the open. Most standard models will include LED cab lighting, key-operated cab controls, wireless call stations, battery backup, a grab bar, a full-height door with electric locks, a light screen, and an emergency phone. Some models even have an optional seat that can fold and unfold from a sidewall panel.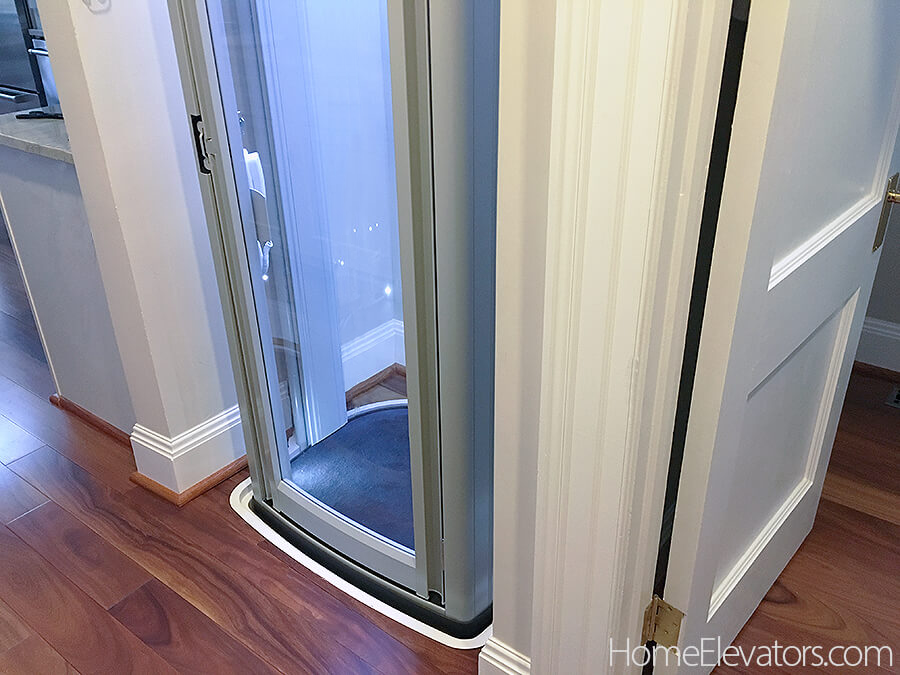 Advantages of The Shaftless Elevator
In situations where space is limited finding the right location for an elevator can be challenging. The major advantage of a shaft-less elevator is the option to have it installed in a completely open floor plan. The ASME A17.1 and A17.7 2010 elevator code permit a home elevator to travel between one floor without an enclosure. If the elevator is not enclosed the code requires several other safety devices and provisions. It's important to always check with your local code authority before installing any type of elevator.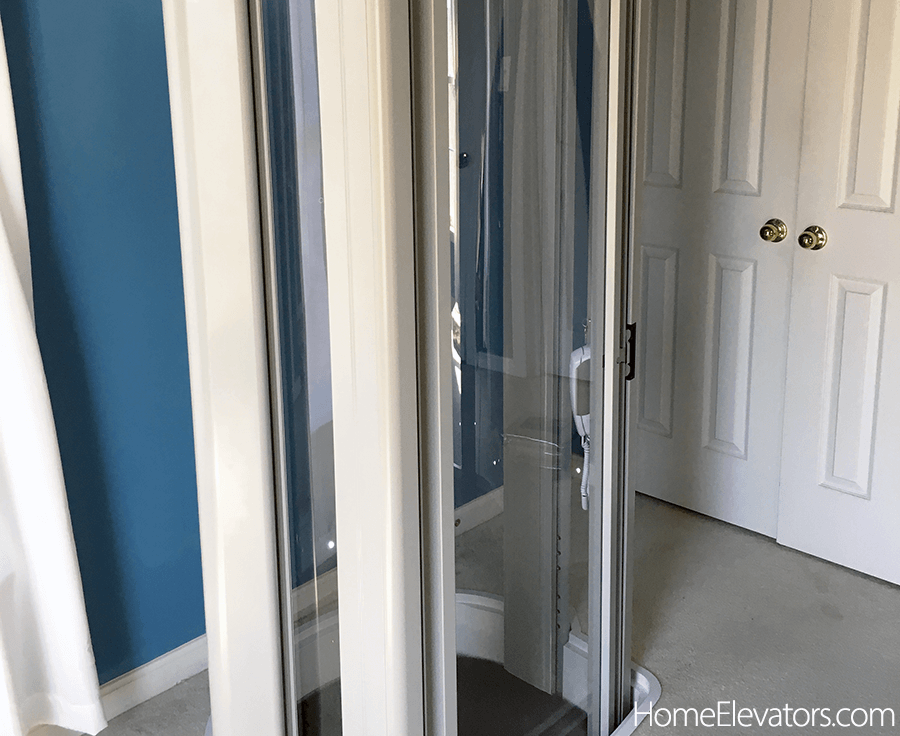 How Safe is This Type of Elevator?
Most shaft-less elevators operate with the use of constant pressure controls. In order to operate the lift, a control button must be pushed and held in the operating position. If the control button is released while traveling in either direction the elevator will stop instantly. The lifts also have sensors on the top and bottom of the cab to detect an obstruction. Should an object somehow hit one of these sensors the elevator would stop instantly. The cab doors are also fitted with an interlock to prevent movement of the elevator unless the door is in a closed and locked position. Finally, as with any residential elevator, it will have a backup safety device to stop the elevator on the rails for the ultimate in protection.
How Much Does a Shaftless Elevator Cost?
The elevator price will vary and be more affordable depending on the make and model you choose. Some smaller basic models start in the $20,000 range while larger luxury style models sell for around $35,000. It's also important to consider the building permits, construction, cutting an opening in the floor, electric, etc. are separate costs and will need to be done by the appropriate contractor.
Installation Process
Installation of a shaftless elevator will usually take 3-5 days depending on the model. The process starts with a site check to verify all manufacturer's specifications, dimensions, and electrical requirements have been met to begin the installation. The electrical requirements and size of the floor opening vary for each model and must be precise for a proper installation. Most manufacturers will provide a template of the opening to place on the floor for the exact size and layout of the elevator.
The elevators are modular systems that can fit through most door openings and will be installed in sections starting with the main rail or lift tower. To assist your installation company with the process it's helpful to move any items in the path while delivering larger sections of the elevator. After the rails are installed the cab will be built and moved into place, then connected to the drive. Once the installation has been completed and all required inspections have passed you'll want to use the elevator as much as possible to check for any adjustments that might be needed while the warranty is still in place.
Maintenance and Care
The recommended maintenance for a shaftless elevator is to have it serviced a minimum of once a year. If you find yourself relying on the lift for daily use you may want to consider service every six months. This can be particularly important if the lift is the only way to reach necessary areas of the home, is used for medical conditions, or wheelchair access.
The cost for an annual maintenance visit for this type of lift will be around $400 -$500 for most models and is usually less expensive than regular elevator maintenance. The typical service visit will include minor adjustments, a visual inspection of components for any unusual wear, testing of the battery backup system, and checking for normal operation of the lift. If any repairs are needed the process is made much easier and quicker with access to all sides of the lift directly from the landings.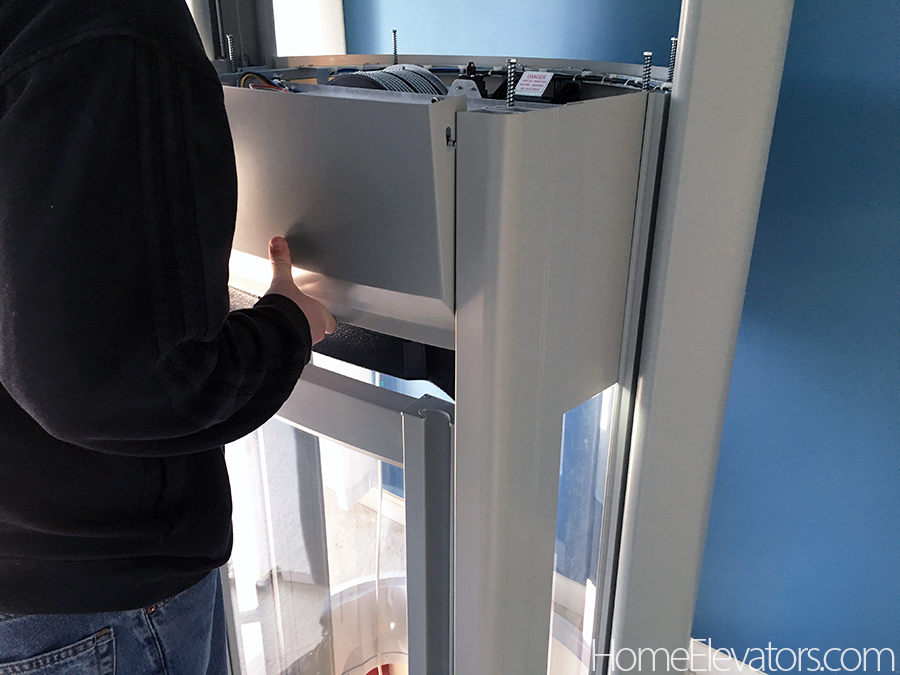 Removal
When an elevator is retrofitted into a home there may come a time you want to restore the home back to its original state. If in the future you decide to remove the elevator it's much easier to do this with a shaftless elevator. After the lift is disassembled and removed there will typically be only one opening in the floor to replace. Most removals can be done in 1-2 days by experienced technicians. The price for the removal of the elevator will vary depending on the model and location.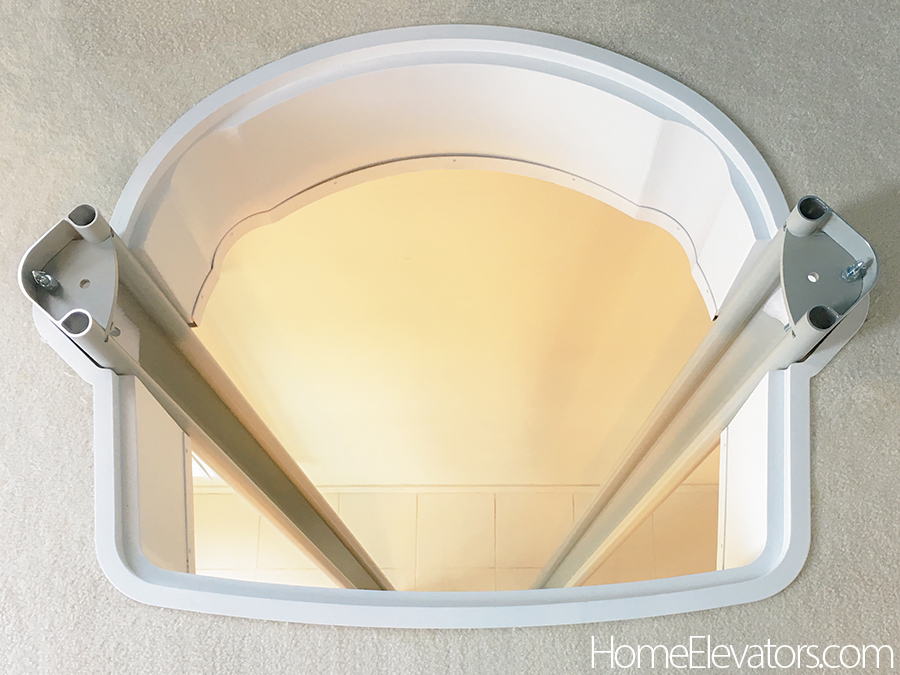 How Shaftless Elevators Work
Here you can see winding drum technology at work as it raises the elevator. The drive and control system are neatly packed on top of this elevator. While the design might vary from individual elevator manufacturer the ideal is to keep the mechanical equipment as close and compact as possible. Shaftless elevators will either have a winding drum or hydraulic drive to raise and lower the cab. These elevators will all have a guide rail system for the lift to travel on. The guide rails also serve as part of the safety or braking system.
Video of a Shaft less Home Elevator in Operation
Video of a finished shaftless elevator working. See more videos on our YouTube channel.