A machine room is an area where the elevator drive unit, controller, and main disconnect switches are located. Typically, for residential elevators, a machine room will be located on the lowest landing as close as possible to the elevator hoistway.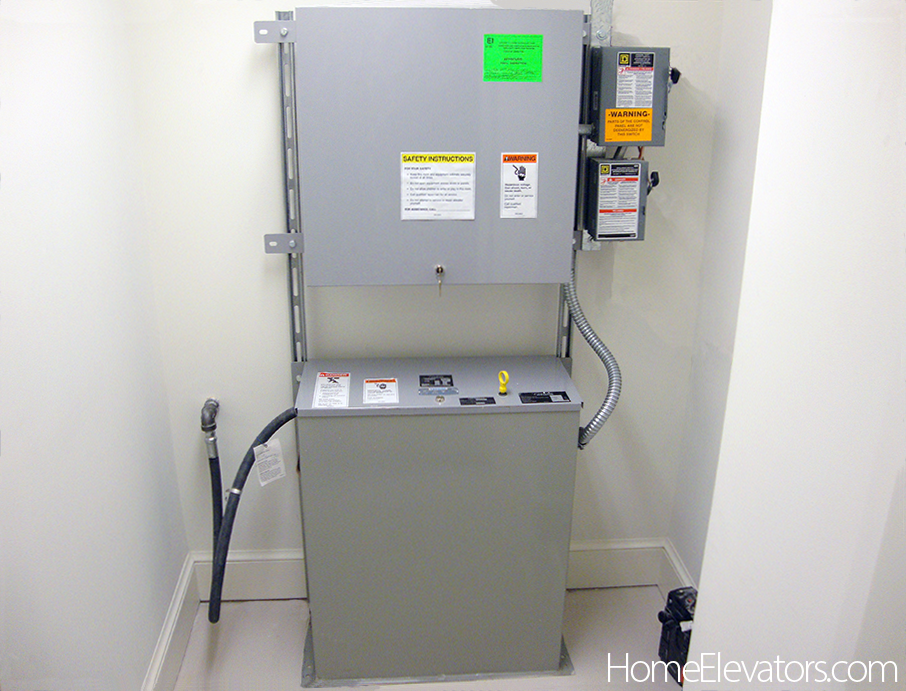 Standard machine room layout for a residential hydraulic elevator.
The minimum recommended size is 5′-5″ deep and 4′-6″ wide, as shown in this plan. The dimensions allow for a safe working clearance around the electrical equipment required by the National Electrical Code or N.E.C. BEFORE constructing a machine room space, the dimensions should be verified with current electrical, elevator and local building codes. The easiest way to verify current codes is to consult with your elevator contractor.
Typical Electrical Requirements
While electrical requirements will vary depending on the specific type of elevator in general, two separate electrical circuits are required for most residential elevator systems. One circuit is used to power the elevator and is usually a 220 VAC, 30 AMP line with a neutral run to the main disconnect switch. The main line disconnect switch will typically need an auxiliary contact to monitor the power supply for outages. The auxiliary contact is a normally open electric interlock contact and is required in the switch for battery isolation.
The second circuit and disconnect switch is used for cab lighting and is usually a 120 VAC, 15 AMP line. A telephone line will also need to be run to the machine room and tied into the elevator controller as per the ASME A17.1 code. The machine room will also require lighting, a light switch, and an electrical outlet. All electrical work should always be done in accordance with N.E.C requirements.