Price of a home elevator and general budget considerations. A traditional-style residential elevator serving two floors will cost around $30,000 and $10,000 for each additional floor after. This is an average price for standard equipment. The price can change significantly for a custom cab finish or additional cab entrances.
The price will also vary greatly on several factors including elevator type, number of floors, cab style, location, and complexity of installation. An example of this would be a typical hydraulic elevator installation serving two floors.
When requesting price quotes from elevator companies, having at least three estimates for the elevator is always recommended. The estimates should be for the exact same type of elevator or they won't be a true comparison.
The hoist-way construction cost is separate from the elevator price and can also vary depending on the requirements for construction, permitting, local regulations, and labor costs. Typically we see these costs to be equal to the price of the elevator. For a total budget plan on around $60,000 for a two-stop traditional style elevator. How do we know this to be accurate? This information is based on an average of home elevator companies across the United States and over 20 years of hands-on knowledge in the elevator business.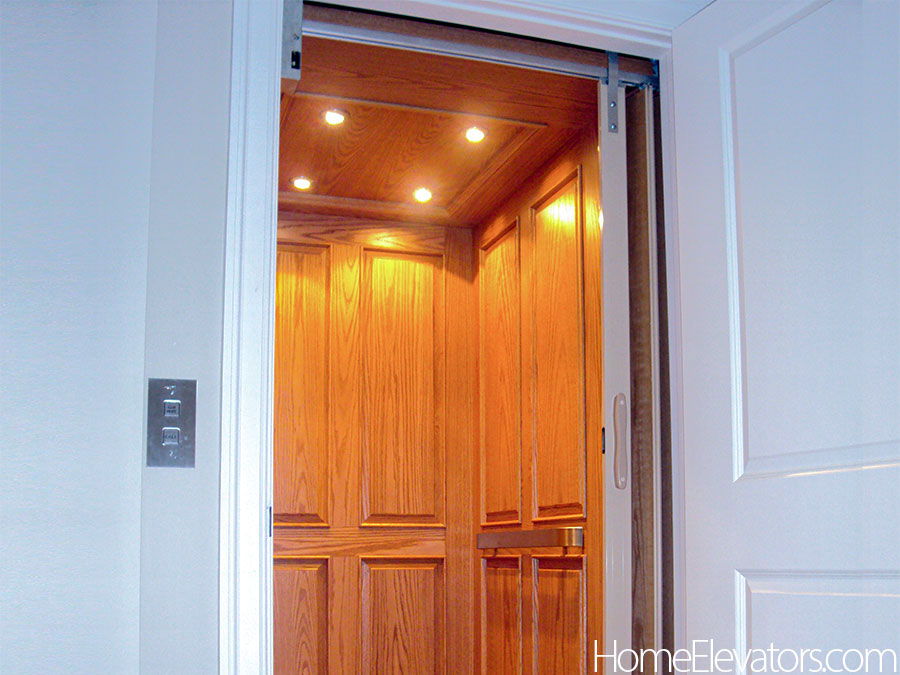 Cost of owning an elevator.
In addition to the initial cost of the elevator and installation, it's important to plan for the future costs associated with owning an elevator. Primarily this includes maintenance, repairs, and insurance. While these are relatively low compared to the price of an elevator, it's good to prepare for these expenses in advance when considering the purchase.
Is there a more affordable elevator?
If you've been researching information about elevators for homes, you've likely seen shaftless elevators or home lifts. Often these lifts are marketed as an affordable elevator option. While the overall project cost will be lower, it's important to realize the elevator isn't actually any less expensive, the saving is in the construction cost.
The price for a good quality shaftless elevator will still cost around $30,000 however, the construction modifications to fit the elevator in your home can be as low as $6,000-$7,000. While more affordable, this type of elevator has limitations of vertical travel distance, is only allowed to pass through one floor by current A17.1 code, and in most cases, has a lower weight capacity.
Even with these limitations, home lifts can still be a practical solution for basic mobility and access needs. Wheelchair lifts are also in this category and in some cases, can be a good elevator alternative to help keep the cost lower.
Elevator kits and the DIY question answered.
For safety, a home elevator should always be installed by licensed and experienced technicians, DIY elevators don't exist for this reason. The installation of an elevator is a highly technical process regulated in most states and will always need to be purchased from a certified elevator company that is properly licensed and insured. This company will also provide annual maintenance, repairs, and inspections.
While there are a few companies that sell elevator kits, the elevator will still need to be professionally installed by licensed installation mechanics. Ultimately this doesn't offer much in the way of savings, and it's more practical to contact your local elevator company for installation. This is also helpful in the planning phase, coordinating the installation, and any future warranty needs. If you ever decide to sell your home, it's good to have these records showing that the elevator was professionally installed and maintained.
Does an elevator add value to a home?
Buying an elevator is a large expense, so you may be wondering if installing an elevator in your home will increase its value. The answer to this depends on many variables, including how and where the elevator is installed. If done properly, an elevator can add value to a home.
A key element to this is placing the elevator into a home so it fits naturally. For existing homes, this can be more of a challenge however, it is possible. Choosing the location for the elevator is also important for daily use, and any accessibility needs should be taken into consideration. This is why the planning and design stage of an elevator installation is an important part of the process. In many cases, the ultimate value is in the mobility and convenience an elevator can provide.