Guide to Residential Elevators
Planning for a Home Elevator Installation
Buying an elevator for your home can be a straight forward process with the right planning and information. Home elevators are available in many different types and styles, the best place to start is by learning about the various designs. The following guide has useful information about the most common types of elevators, including hydraulic, machine room-less, winding drum, shaftless and vacuum.
This guide provides a general overview of:
Residential elevator systems
Best type to use for specific applications
Typical installation requirements
Top home elevator brands and manufacturers
Tip: Always check with your local code authority and elevator contractor when planning an installation. Elevator codes can vary in different locations and while most are uniform some jurisdictions may have special requirements.
Hydraulic Elevators
Hydraulic elevators are heavy duty home elevators. They have standard weight capacity of 750 lbs. and can even carry up to 1000 lbs. This type of elevator will require a full hoist-way enclosure on every floor, a pit at the lowest landing and a separate machine room. Hydraulic elevators operate with a hydraulic piston to raise and lower the cab. This type of elevator offers a very smooth and quiet ride quality.
If you need an elevator that will require heavy use and carry a higher weight capacity, hydraulic is a great option. With a design that has been in use for over 50 years the hydraulic elevator has proven its use and reliability in the residential elevator market. READ MORE >>>
Machine Room-Less
Machine room-less elevators are also referred to as MRL. With an MRL elevator the drive and controller are located in the hoistway eliminating the need for a separate machine room. This can be ideal if you don't have the space for a machine room but still want a larger cab that can serve up to 5 landings. MRL'S are available in counter weight electric chain drive and cable drive systems.READ MORE >>>
Winding Drum Elevators
Winding drum elevators operate with an electric motor to wind the cable on a drum that will raise and lower the elevator. This type of elevator requires a hoistway, pit and machine-room. Winding drum elevators will typically have a 500-750lb. capacity. The ride quality is standard.
This type of elevator is available is a variety of configurations with placement of the motor assembly. Here the drive is located in a separate machine-room. The machine-room is always recommended for ease of service and maintenance, if the space is available.
Shaftless Elevators
The shaft-less elevator also referred to as a through floor elevator or lift is made to serve two floors. This type of elevator can retro fit easily into existing homes and requires the least amount of space compared to traditional elevators. Construction is also kept to a minimum without the need for a full hoist-way enclosure, pit and separate machine room.
Shaft-less elevators are available from several different manufactures with variations in cab styles, mechanical designs and installation requirements. Some models can be placed almost anywhere in a home making the process of installing an elevator much easier.
This elevator is made for convenience, limited space and simplicity. They are lifestyle lifts designed to help with mobility and a great alternative to a stairlift or full style traditional elevator. READ MORE >>>
Vacuum Elevators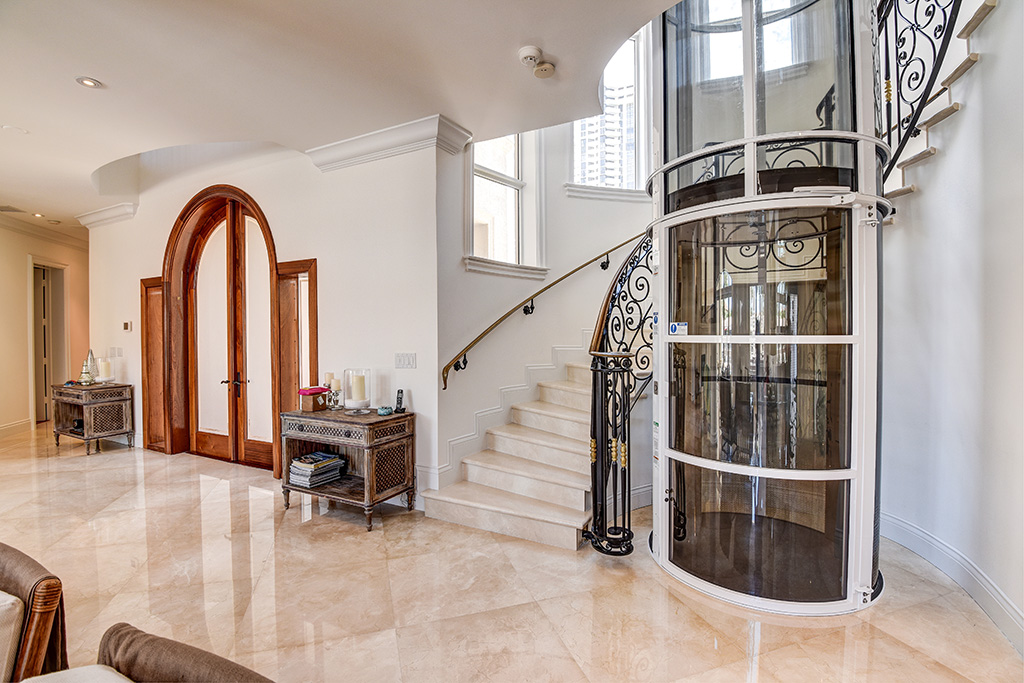 Vacuum elevators are air driven elevators that use air pressure to raise and lower the cab. They are available in three models the PVE30, PVE37 and the PVE52. The number in the model represents the external size of the cylinder. The PVE30 has a 30″ cylinder and fits one person. This model has the smallest footprint of any home elevator on the market. The PVE37 is the original vacuum elevator model and can carry two riders with a 450lb capacity. The largest model the PVE52 has a cylinder diameter of 52-11/16 inches, can carry three riders with a 525 lb capacity and is wheelchair accessible.
Similar to the shaft-less elevator the vacuum elevator is great for limited space applications. The construction is kept to a minimum and the lifts also don't require a pit or machine room. Vacuum elevators can serve up to 5 landings with 50′ of max travel.
The Best Home Elevators
The best elevator will be the one that is most suited to your needs and falls in to three categories product, manufacturer and installation company. Of course there's cost and we've written about elevator pricing here to provide a general idea of budget.

Elevator Class and Application Guide
| Elevator Type | Best Application | Model | Top Brands |
| --- | --- | --- | --- |
| Hydraulic Elevator | Heavy use, high weight capacity, up to 5 floors | IR-1 Signature series | Custom Elevator Manufacturing, Inc. |
| Machine room-less (MRL) Elevator | Waterfront installations and limited space over 2 floors | Inline Gear Drive | Symmetry |
| Glass Elevator | High-end luxury style, free standing structure, 360 views | Vuelift Octagonal & Round | Vuelift |
| Shaftless Elevator Lift | Retro-fit, affordable, medical conditions, retirement living & aging in place, 2 -floors | Telecab | SAVARIA |
| Vacuum Elevator | Space saving, stand-alone unit with modern look | PVE-30 | Pneumatic Vacuum Elevators, LLC |