Wheelchair lifts are a great way to help people with disabilities, injuries, or the elderly in and out of their homes. They come in many different styles and sizes, but all have one thing in common: they allow for easier mobility. Wheelchair lifts can be installed indoors with a hoistway or outdoors in the open depending on your needs.
Similar to a residential elevator, wheelchair lifts carry people up and down between floors in their home but are made more for practical purposes and can be an affordable alternative to an elevator. Wheelchair lifts are often overlooked in the planning process of home lift installations, even though they are a great option for those with mobility issues.
While a wheelchair lift is more practical in appearance they offer very reliable service and are specifically designed to fit most standard wheelchair models. This lift manufactured by Savaria is the hydraulic model V-1504 shown in a 2-stop hoistway with a 3′ x 4′ platform and provides vertical travel up to 12′.
Wheelchair lifts can be ideal for several reasons:
The weight capacity for this type of lift is usually 750 lbs.
They are ideal to carry heavier battery operated wheelchairs.
Provide wheelchair access 2 levels and in some cases 3 levels.
Standard platform size of 36″ x 48″. Optional platform sizes are available.
Two drive systems including hydraulic lift and screw drives.
Usually, savings associated with the construction cost over elevators.
Easier to service and lower maintenance cost.
Does not require a machine room.
Can be installed with a 3″ pit or ramp on the first floor.
The open-style platform feels spacious.
Only uses a standard household 110-volt outlet.
Some models offer battery back-up operation in both directions.
Wheelchair lift applications
Wheelchair lifts installed in the interior of homes are also available with factory-made enclosures or can be placed within a hoistway that meets local codes. Most platform lifts are built to meet the ASME A18.1 standard. Wheelchair lifts are so versatile they can even be installed outdoors for year-round accessibility.
Price of a wheelchair lift
The cost of a wheelchair lift will depend on the size and type of lift installed in your home. Wheelchair lifts can cost anywhere from $4000 to over $20,000 depending on what you need. A lift that provides access to a porch or deck with 4-6 feet of vertical travel will usually cost $4000 -$6000 where a lift that needs access to a second floor will cost around $20,000.
Enclosed wheelchair elevators
Wheelchair lifts are available with clear enclosures made from acrylic panels and aluminum frames for open installations.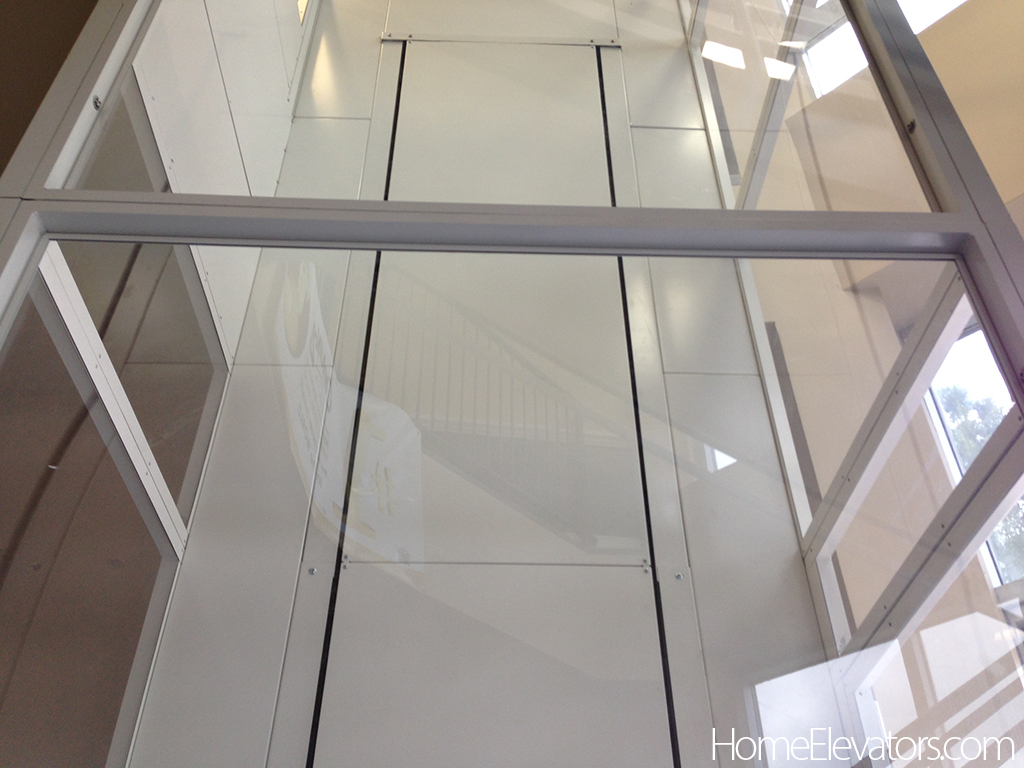 Outdoor wheelchair lifts
Outdoor wheelchair lifts are available in two main types: enclosed for higher travel distances and unenclosed for lower travel to around 6′. A wheelchair lift for outdoor use can be used in all seasons and should be covered with an awning if possible.
Lift installed in the garage
Another great option is to place the lift in the garage with a small landing built in front of the door. Wheelchair access will also be protected from the elements and you'll already have the perfect concrete base to place the lift on. In an ideal scenario, you'd be able to pull into the garage with a wheelchair-accessible van and then transfer into the lift and then into your home, barrier-free with ease.