A hoistway or shaftway is an enclosed area that is used to house the elevator as it travels between levels in your home. This area will run vertically from the lowest floor to the top floor. The hoistway should always be built to meet local codes and to the elevator manufactures specifications. In some jurisdictions, a hoistway must also be fire-rated. Hoistways can also be constructed on the exterior of a home or built on the side or rear of a house depending on local building codes and community guidelines.
Hoistways will typically have special supports or bracing built into the load wall to attach the elevator as shown here. These supports will run vertically from the lowest floor to the ceiling on the highest floor and will be specified by the manufacturer for precise location.
When constructing a hoistway always work off an approved and final set of plans provided by your local elevator contractor. It's important to remember a hoistway is a critical element of any elevator installation and must be built perfectly square and plumb with the proper load specifications. Hoistway dimensions are exact and not something that can easily be adjusted or changed later. Shown here is a typical elevator hoistway plan fitting a standard cab size.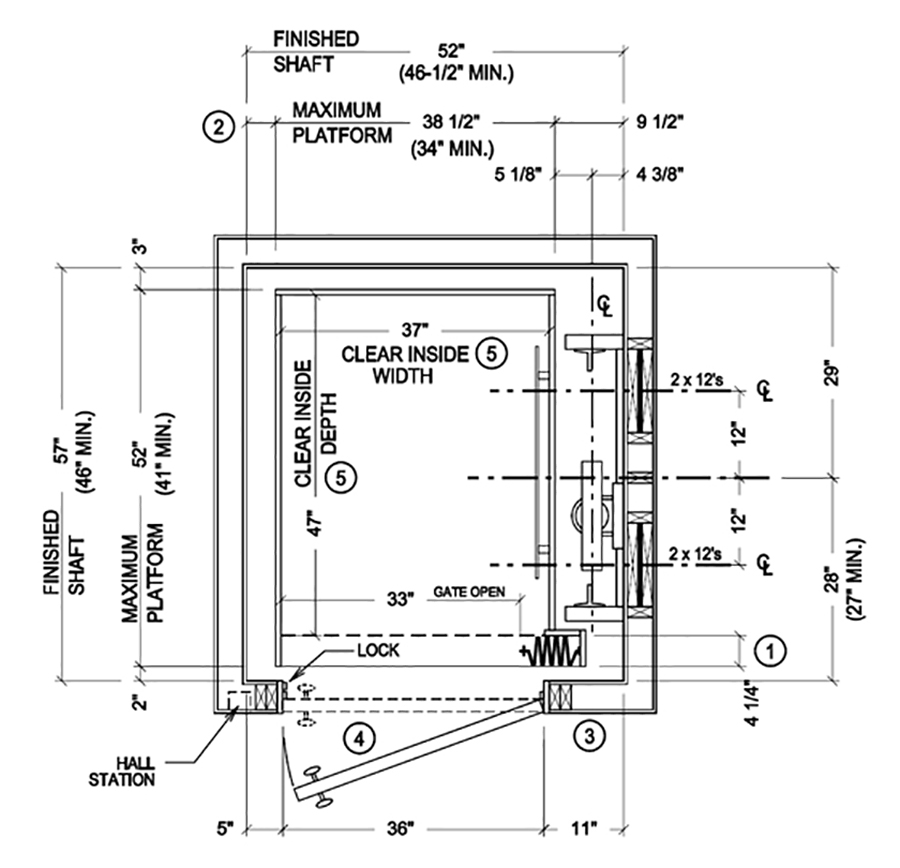 Pro tips: While in the framing stage of hoistway construction leave time for your elevator contractor to prewire the walls for the landing controls and door interlocks. This is also a perfect time to install automatic lighting at each landing by the hoistway entrance doors.
Elevator pit
An elevator pit is a recess in the lowest landing floor designed to give the elevator car frame room to park while keeping the cab entrance and threshold level with the landing. The elevator pit area will be the same width and length as the hoistway but can range in depth from 6″ to 12″ depending on the elevator type.