A stair lift is a mobility device that helps people who have difficulty with stairs move safely and easily between levels of their home. Stair lifts are also known as chair lifts or stair chairs and attach directly to the stair treads traveling at the same angle. Stairlifts are available in three main types including straight, curved, and outdoor lifts to accommodate any staircase or installation requirement you may have.
Why you might want a stair lift
A recent study found that 27% of adults over 65 years old have difficulty with stairs. There are many reasons for this, including arthritis and injuries from falls or accidents. Whatever the cause, it can be difficult to climb up the steps in your home without assistance. Since stair lifts provide a quick and affordable solution to this problem they have become extremely popular in assisting with mobility and independence. It's important to note that a stair lift isn't just for the elderly but can be used by those of any age and physical condition that need easy, convenient, and safe accessibility at home.
The primary reason people install a stair lift is to make life easier. This includes older adults who find it difficult or impossible to climb stairs, as well as those with disabilities like MS and Parkinson's disease that might cause them problems with mobility. Taking the stairs becomes dangerous for some because they can't see where their next step is due to physical challenges, vision, or perception issues. In some cases, it's also possible for someone in a wheelchair to use a stairlift by transferring from the wheelchair into the stair lift and then having a second chair on the next floor.
Price of the different types of stair lifts
There are four main different types of stair lifts and depending on your stair type you'll first want to select the correct type of lift and then choose a model that fits your needs. Generally, stair lift prices will be in the following range.
Straight stair lifts $3,500 -$6,000
Curved stair lifts $10,000 -$15,000
Outdoor stair lift $4,500 -$5,000 (straight stairs)
Outdoor lifts for curved stairs $15,000 -$20,000 average
These prices are for residential stair lift installations with standard stair types. The price can easily increase if you have stairs that are longer than usual or any installation requests that are out of the ordinary.
Stair lifts for straight stairs
Straight stair lifts are the most common lift in homes and are designed to travel up the stairs in a straight path only, they do not have the ability to turn or curve. A stair lift installation with up to 14 stairs starts at around $3,500 and can go upwards of $6,000 depending on the brand, model, and optional features like power-folding rails or power-assisted turning seats and folding footrests. There are many different models and types available from stairlift manufacturers to accommodate a range of needs and weight capacities. Most stairlift companies will offer a basic entry-level model and a high-quality model with a more stylish design. View specifications for the different models and compare stair lifts here.
Stair lifts for stairs that turn
Curved stairlifts that turn or go over and around landings cost between $10,000-$15,000 on average and will range in price depending on the type of stair configuration and the number of turns you have. Add on the price of any customizations or options you might want, for example, special colors to match your home or extra turns to park the lift off the stairs on the landing, and the price will increase and vary depending on the specific needs. In general, the average total cost for a curved lift for stairs is around $12,000, with additional fees if there are any unique design specifications or optional features.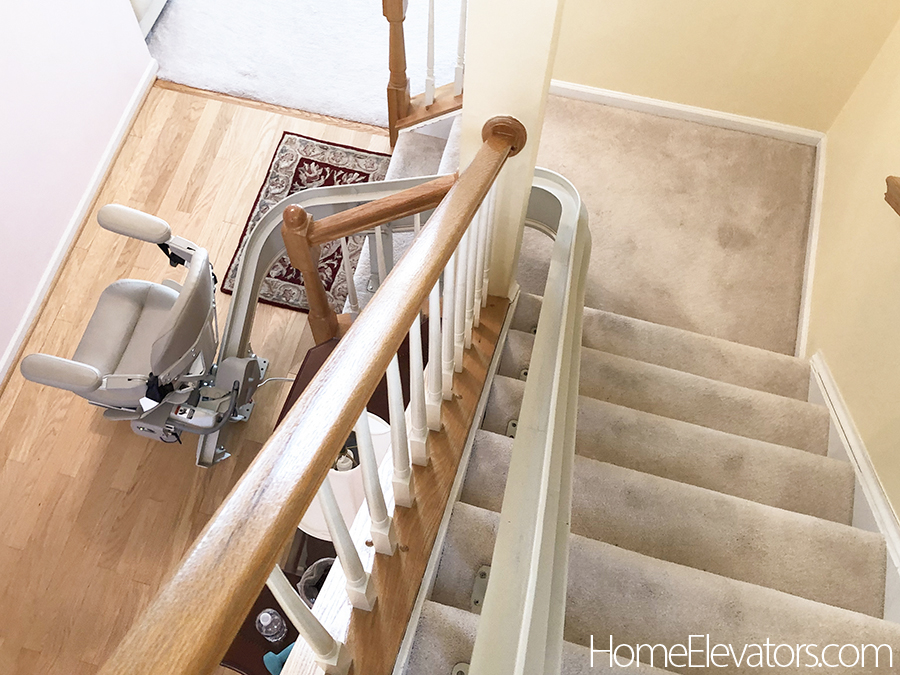 Stairlifts for curved stairs can also serve multiple floors, like an elevator, up to 3-stories, and are often selected as an elevator alternative because of this. If you wanted to ride from an entry-level, up to a second floor, across a landing, and to a third floor, it's entirely possible with a curved stair lift. What's great about this option is it's more affordable than a standard elevator, requires zero construction, and can be removed if it's no longer needed in the future.
Curved stair elevator video
Curved stairlift elevator traveling over a landing and around turns. The lift shown in this video is the Bruno CRE-2110.
Stair lifts for outdoor use
Outdoor stair lifts for straight stairs are more expensive than their indoor counterparts and start at $4,500- $5,000 with special consideration to the materials and components made to withstand the weather. The rails are typically made with aluminum, stainless, or are galvanized on outdoor chairs and most models will also come with covers protecting the lift from the different year-round elements. The installation of an outdoor stair lift will also save you significant space by not taking up the same area in your home that would be taken up on the interior steps or with a traditional wheelchair ramp.
Outdoor stair lift for curved stairs
Curved stair lifts for the outdoors are also available and can be installed on any type of staircase. An outdoor curved lift will be the most expensive type of chairlift with the extra equipment and coatings needed for year-round exposure to the elements. Typically an outdoor lift for curved stairs will start in the $15,000 range and increase with the number of turns and length of stairs. This type of outdoor lift can also be a less expensive alternative for anyone considering a hillside tram and is also much easier to install with the use of existing stairs.
In most cases, pricing includes professional installation and there are some companies that will also offer installation warranties in addition to the manufactures parts warranty. Insurance companies and medicare won't usually cover the cost of a chair lift, paying for a lift will be an out-of-pocket expense. The one exception to this is the VA or Veterans Administration will often pay the initial equipment and installation cost.
Financing might also be available from your local stair lift companies, many will accept credit cards as a way for you to self-finance. When you're ready to buy your lift it's typical for stairlift companies to provide a free consultation and quote, some will even offer next-day installations for immediate medical needs.
Installation
There are two main ways to buy your lift including your local stair lift company or from a stair lift manufacturer. Most stairlift manufacturers including Bruno, Harmar, HandiCare, and Stannah work with a distributor network of local home lift companies. Acorn Stairlifts sells directly to consumers with their own installers and service technicians.
The price for the stairlift will be about the same for either route and should always be installed by a trained stairlift technician. The installation of a standard straight stair lift will take 1-2 hours. A lift for curved stairs will take longer to install and adjust but can usually still be completed in one day.
Stair lift rentals
Stair lift rentals are also an option for temporary situations or short-term needs. Renting a stair lift can save the cost of repairs and you won't need to worry about selling it or removing it when you're done with the lift. This is also helpful when it's time to move or sell your house. While some stair lift companies provide rental lifts there is a limited number offering this type of service. In most cases, there will be a fee for the initial installation and a monthly rental charge to keep the lift.
What to consider when selecting a stairlift
Important things to consider when looking for a stairlift :
Type of stairs (straight, curved, or outdoor)
Number of steps and length of stairs
For curved stairs the types of turns on the stairs
Are there doors near the top or bottom of the stairs
Weight capacity and frequency of use
The durability of the lift
Ride quality and stability
Ease of use and operation
Weight capacity
The comfort of the seat and controls
Safety features
Price and warranty
Finding a qualified stair lift installation company
Availability of service and repairs after your stairlift is installed
Pros and cons of stairlifts
Stairlifts offer a number of clear benefits to those who are living with mobility challenges. They allow people who cannot use stairs or have difficulty in doing so the ability to move between floors without assistance. This can be life-changing for some, making it possible for them to remain active and live independently well into their later years when they usually move to assisted living arrangements or nursing homes.
Key benefits of a chair lift
Quick installation that takes less than a day to install and attaches directly to the staircase.
Low cost with the average price for the labor and materials around $3,500 for a standard indoor straight stairlift.
Installation requires minimal or no changes to your home, but be sure to check with your installer before they start work on what will need to be moved during installation.
Stairlifts are the most affordable lifts compared to home elevators and wheelchair lifts.
Some stairlift companies offer a warranty on labor and material.
A few manufacturers even offer a limited lifetime warranty on parts
Battery-powered operation allows for use of your lift when the power is out for uninterrupted mobility and worry-free access.
Stairlifts are easy to remove and restore a home to its original condition if no longer needed.
Downsides:
There are more restrictions for chair lifts than elevators such as lower weight capacity.
Stair lifts cant accommodate or carry a wheelchair between floors.
Rails take up free space on the stairs even when folded.
Most are battery-powered and will need these batteries replaced eventually.
A stairlift does not increase the value of a home long-term.
Top stairlift brands and manufacturers
Chairlift manufacturers that offer warranties for their products to cover parts. These are either given on a limited or lifetime basis depending on the manufacturer. Labor and installation warranties are provided by your local stair lift company.
AmerGlide – Rave 2 chair lift
Bruno – Model SRE-2010 also offers an outdoor model
Harmar – Pinnacle SL600
Hawle – Curved stair lift models for indoor and outdoor use
Stair lifts can be a great option for people who want to stay in their home longer but have mobility challenges that make it difficult to navigate stairs. They also eliminate the need for someone else to help them move for more independence and freedom in daily routines.