Hydraulic elevators are heavy-duty elevators built for frequent, long-term use. They also have an ultra-smooth ride quality and are typically very quiet. They are one of the best elevators for durability, larger weight capacities, and serving a higher number of floors.
The system operates with a hydraulic pump connected to a cylinder that raises and lowers a piston to move the elevator cab. The elevator will lift under the pressure of the hydraulic fluid pumped into the cylinder when a call button is pressed from a higher floor.
To travel in the down direction, the controller will open a valve in the hydraulic tank, slowly releasing this pressure after a lower floor call has been placed. Since this type of elevator can travel down by simply opening a control valve and pull from gravity, it is also what makes them efficient in the use of power. They can even be lowered by battery backup in the event of a power failure with automatic operation.
Hydraulic elevators can serve up to 6 stops or 50′ of travel and are available in a wide variety of cab styles with different configurations. There are several things to keep in mind when planning for this type of elevator:
Price of hydraulic elevators
The elevator and installation
Equipment layout, design, and machine room
Cab style and finish details
Hoistway construction
Landing doors and types
Service and maintenance of your elevator
Ride along inside a hydraulic elevator to see what it's like while traveling between levels in your home. This model is a 3-stop elevator, carries 750 lbs., and has a 3'x 4′ cab interior. The machine room is located in the basement. The cab gate is a clear see-through style and a great option for anyone who wants more of an open look. The video is intentionally left without narration, or background sounds to give you the best feel for this type of elevator.
Cost of a hydraulic elevator
While hydraulic elevators are on the more expensive side of home elevators, they can be worth the investment. The actual cost will vary depending on several factors, including the number of floors the elevator will serve, the number of openings on the cab, door type, finish style, optional upgrades, and code requirements in your area.
The elevator shown in this picture serves two floors and has a standard cab finish with one entrance on the front. The price for a hydraulic elevator with these specifications sells on average for $30,000. This price would be for the elevator and installation, it would not include any construction cost. This elevator was made by Custom Elevator Manufacturing in Plumsteadville, PA.
Hydraulic elevator safety features
Hydraulic elevators are some of the safest in the industry. The systems have several features built-in for fail-safe operation. One of the best features of hydraulic systems is the elevators are engineered and designed specifically for each individual installation. Because of this, they will only travel to the maximum total floor-to-floor distance plus 2″-3″ of runby or overtravel (extra buffer space), meaning they can never move more than a few inches past the top landing.
The elevators will also include a flow control switch to prevent overspeed in the down direction and a pump-run timer to monitor the travel time between landings. The rated speed for an in-home hydraulic elevator is 40 fpm, traveling 20 feet will take approximately 30 seconds. The cabs are supported with two 3/8" diameter steel cables rated for thousands of pounds. The cables are connected to an instantaneous braking system that is also continuously monitored by a PLC-based controller.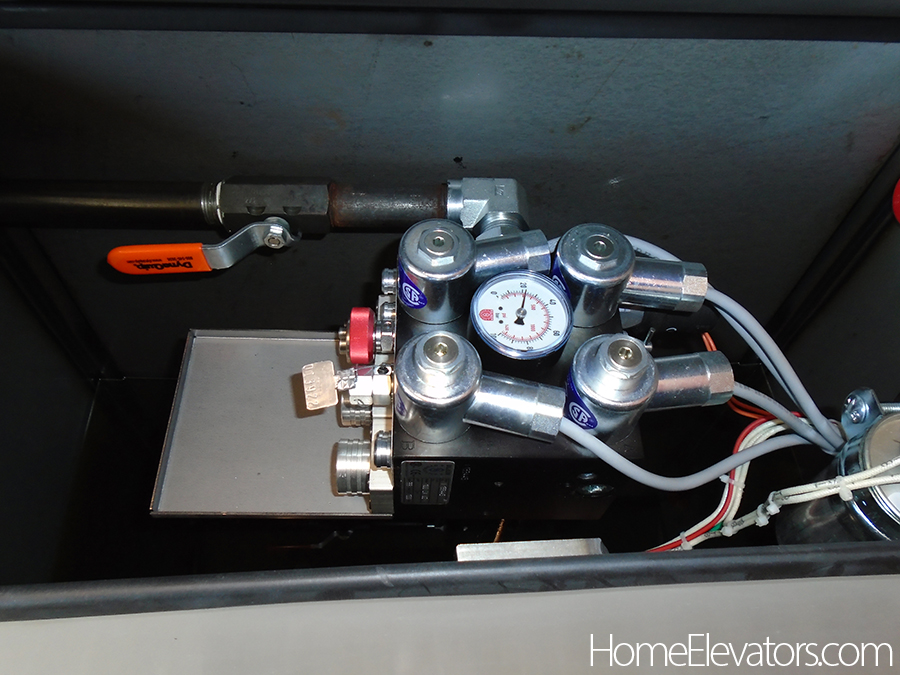 Hydraulic elevator control valve and tank enclosed with submersible pump monitoring fluid pressure. The manual lowering valve and gate valve are easily accessible for service.
The Elevator and Installation
The most popular type of hydraulic home elevator is shown below. It's referred to as a 1:2 roped hydraulic elevator, meaning for every inch the piston moves, the cab will move two inches. The 1:2 ratio provides for a longer range of travel and allows for a shorter cylinder assembly. This is extremely useful for residential applications to fit in homes with standard 8′ ceiling heights. While a 9'-6" floor-to-ceiling height on the top level is recommended and preferred by installers, this space isn't always available.
Also, note the wide distance between the guide rails (DBG). This is critical to the ride quality and stability of the cab as it travels between floors. The guide rails are the foundation of any elevator system, the wider space decreases side-to-side movement. Here the rails on the left and right sides are almost touching the shaftway walls. As with any other type of product, home elevators are produced by different manufacturers with varying degrees of quality and design. Elevator manufacturers and selecting a hydraulic elevator. The components and materials to manufacture an elevator should always be of the highest quality.
Equipment layout and design
Different than hydraulic passenger elevators, the residential versions are similar in many ways, mainly smaller and made for homes. The industry-standard model is a 3′ wide by 4′ deep cab interior cab size with a 750 lb capacity and will travel 20-25 feet per minute. When planning for the required space, figure using around a 5'x5′ area on each floor to accommodate the elevator and shaft-way enclosure.

It's also important to remember hydraulic elevators require a separate machine room to house the controller and pump assembly. The machine room is typically located on the lowest floor adjacent to the elevator hoistway. Residential elevator dimensions and specifications will vary from manufacturer.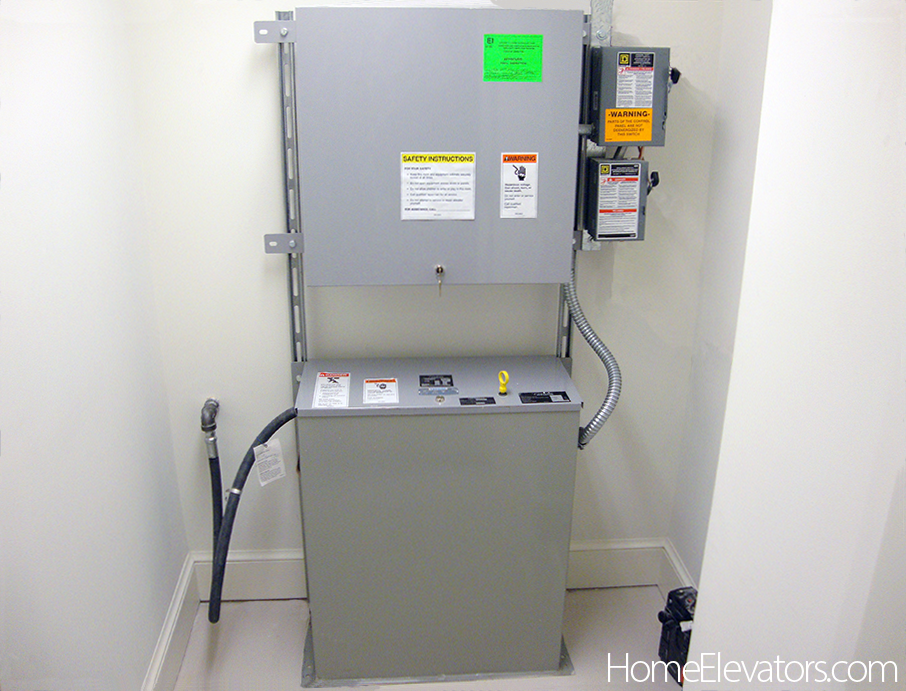 Hydraulic Elevator Maintenance
Hydraulic elevators should have regular maintenance and be checked annually for normal operation. While this type of elevator is very reliable, like any other machine, maintenance can extend the life of your equipment and prevent breakdowns. The elevators require special care from mechanics who are experienced with hydraulic systems, most elevator companies will have this type of technician. Typical maintenance involves a thorough check of the elevator, and control systems, an inspection of the hydraulic pump, review of ride quality and leveling speed.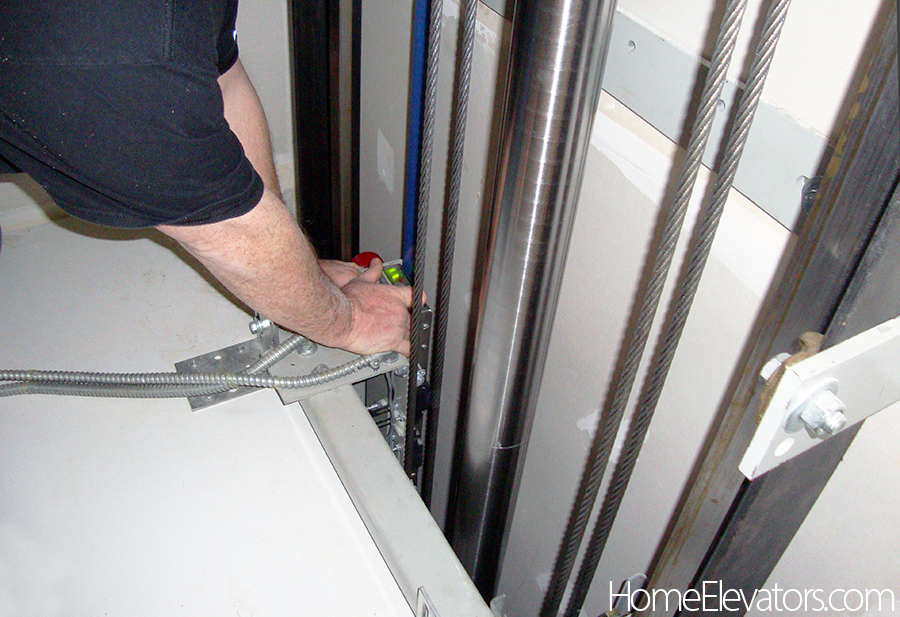 Cab and Finish Details
What do you want the elevator interior to look like? When buying an elevator you will have a choice of finish details. The elevator finish will include the cab material color and metal finish. Most manufacturers will offer a cab with a basic finish, a mid-line model and a luxury raised wood panel cab.
Hydraulic Elevators
Wheelchair access
10.0/10
Pros
Made for frequent use
Quiet operation
Large cab sizes available
Battery backup lowering
Single push button automatic operation
Cons
Higher construction cost
Requires a pit or recess in the lowest floor