Hydraulic elevators are heavy duty elevators built for frequent, long term use. This type of elevator has an ultra-smooth ride quality and is typically very quiet. They are one of the best for durability and serving a higher number of floors. The system operates with a hydraulic pump connected to a cylinder that will raise and lower the elevator cab.
Hydraulic elevators can serve up to 6 stops or 50′ of travel and are available in a wide variety of cab styles with different configurations. There are several things to keep in mind when planning for this type of elevator:
Price of hydraulic elevators
The elevator and installation
Equipment layout and design
Cab style and finish details
Service and maintenance of your elevator
Ride along inside a hydraulic elevator to see what it's like while traveling between levels in your home. This elevator goes up three floors, carries 750 lbs. and has a 3'x 4′ interior. The machine room is located in the basement. The cab gate is a clear see-through style and a great option for anyone who wants more of an open look. The video is intentionally left without narration or background sounds to give you the best feel for this type of elevator.
Cost of a hydraulic elevator
While hydraulic elevators are on the more expensive side of home elevators they can be worth the investment. The actual cost will vary depending on several factors including number of floors the elevator will serve, number of openings on the cab, finish style, optional upgrades and code requirements in your area.
The elevator shown in this picture serves two floors, has a standard cab finish and one entrance on the front. The price for a hydraulic elevator with these specifications sells on average for $30,000. This price would be for the elevator and installation, it would not include any construction cost. This elevator was made by Custom Elevator Manufacturing in Plumsteadville, PA.
The Elevator and Installation
The most popular type of hydraulic home elevator is shown below. It's referred to as a 2:1 roped hydro meaning for every inch the piston moves the cab will move 2 inches. The 2:1 ratio provides for a longer range of travel and allows for a shorter cylinder assembly.
As with any other type of product home elevators are produced by different manufacturers with varying degrees of quality. Elevator manufacturers and selecting a hydraulic elevator. The components and materials to manufacture an elevator should always be of the highest quality.
Equipment layout and design
The industry standard model is a 3'wide by 4'deep cab with a 750 lb capacity. When planning for the required space figure using around a 5'x5′ area on each floor to accommodate the elevator and shaft-way enclosure. Residential elevator dimensions and specifications will vary from manufacture. While hydraulic elevators cost more on average they have a very smooth and stable ride quality.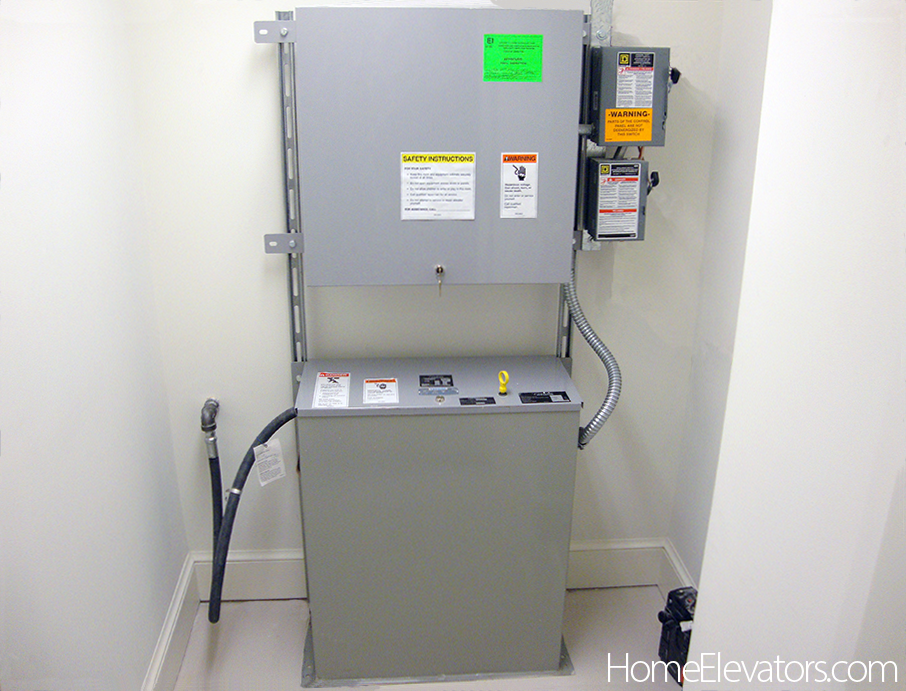 Cab and Finish Details
What do you want the elevator interior to look like? When buying an elevator you will have a choice of finish details. The elevator finish will include the cab material color and metal finish. Most manufactures will offer a cab with a basic finish, a mid line model and a luxury raised wood panel cab.